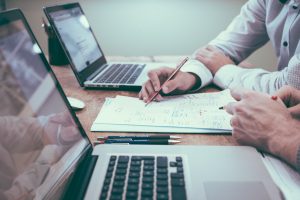 It's harder to find something that is not difficult about PhD dissertation writing than something that is, but still there are a couple of particularly difficult things most students hate dealing with. Here is a list of the most popular problems students face:
1) Picking a suitable thesis.
You have surfed the Internet and reviewed dozens of PhD dissertations online, but still have no idea what to write about. Or, maybe you do have an idea, but don't know how to state it in a way which your dissertation committee will approve. Don't worry, this problem is easy to solve if you have a team of experts to help you. More than that, not every statement that you pick for a thesis will be proven in the process of the research. On the contrary, you may find out that it is completely not true, and this will be the result of your research. This is science! It can be pretty unpredictable. Also, don't focus on finding a fancy-sounding topic. It's better to choose a trivial and "boring" one if you have a clear idea how you are going to conduct the research and where you will find sufficient amount of data.

2) Looking for data.
At first, it might seem that you have better opportunities than students who studied earlier could ever have. You have the Internet, all the data can be sent from one place to another in an instant, you don't need to print your paper out each time you want to show it to your supervisor or (what a horror!) submit it in handwritten form. But finding qualitative data for writing a PhD dissertation hasn't gotten any better since then. The Internet is filled with dozens of articles and dissertations you have to pay for – but this is the good case. Your topic may be so specific that you won't be able to find any secondary sources on your problem at all.

3) Choosing relevant and credible literature.
So, you have spent several months digging into archives and the Internet like a gold miner, and you have managed to find a decent amount of books and articles related to your topic. But the quest isn't over! Now you have to double-check every source and sort out only the credible ones, and by credible we mean trustworthy in academic circles. By the way, Wikipedia is not a credible source. More than that, if you have found 100 sources, nearly half of them won't be accepted as credible by your supervisor. Now we have a problem, right?
How Can We Help?
Writing a PhD dissertation is a daunting task, indeed. Now you have, however, a reliable and experienced team of helpers. We are always ready to provide you any kind of assistance you may need while working on your paper. Here are a few more reasons why you should choose our service to take care of your academic difficulties:
1) It is completely confidential.
In our highly competitive society, asking for help is often frowned upon. We believe that cooperation creates better results and that all the great minds should work together. Nevertheless, we respect your privacy and personal space. You can be sure that all your personal information is completely safe. Even among the website teams, only our payment support team has access to your real name and mobile phone number. More than that, we won't sell you any kind of advertisement via e-mail or mobile phone. You need help and we provide it – that's all.

2) We work with top-notch writers.
Before admitting a writer to our team, we make him or her pass various tests to prove their writing abilities, overall knowledge, and knowledge in the particular field the person is applying for. We also ask them to provide credible validations of their academic achievements. And beyond even that, we are looking for talented and motivated writers who want to share their knowledge and skills with the world, and we were able to find them. Well, there's no better way to show you how awesome our writers are than to show you their work.
3) Tell your conscience it's completely fair.
As a person involved in academic writing, you know better than anyone that a good example is halfway to success. It may be tempting to order Ph.D. dissertation help and claim the paper to be your own afterward. We bet you know how much risk is associated with doing so, right? Ordering a sample dissertation, however, is not a bad thing on its own. You receive a qualitative template to follow during your research. Keeping in mind all the tiny details you have to include in your paper is difficult, but when you have a place to check, it becomes more tolerable.
4) We have progress delivery and free review features.
Writing a dissertation is heavy work, and no wonder you want to see how the work is going. That is why we have designed the progress delivery feature: once a certain part of work is ready (the length of the part depends on the overall volume of your paper), you will receive it and be asked to pay for it after confirming that it fits your demands. If it does not, we have a free review option. Use the "review" button on your personal page to request an amendment. You can ask for as many free amendments as you need to, but remember to do so within 14 days for ordinary papers, and within 21 days for lengthy orders, such as dissertations or theses. How many PhD dissertation writing services can offer you that?
What are you waiting for? Your dissertation won't write itself! Place your order and get expert dissertation writing help from one of our awesome writers.