How to Write Cause and Effect Essay That Works
This guide on writing a cause and effect essay will become your magic wand that solves all problems. We believe that any working advice from professional authors will be highly appreciated by students struggling with their papers. Therefore, we collected the best hacks on cause and effect essay structure, formatting secrets, suggestions on cause and effect essay topics, and more vital information. Our guide will make your essays more profound and readable. Read on to find out more, or buy an essay from us.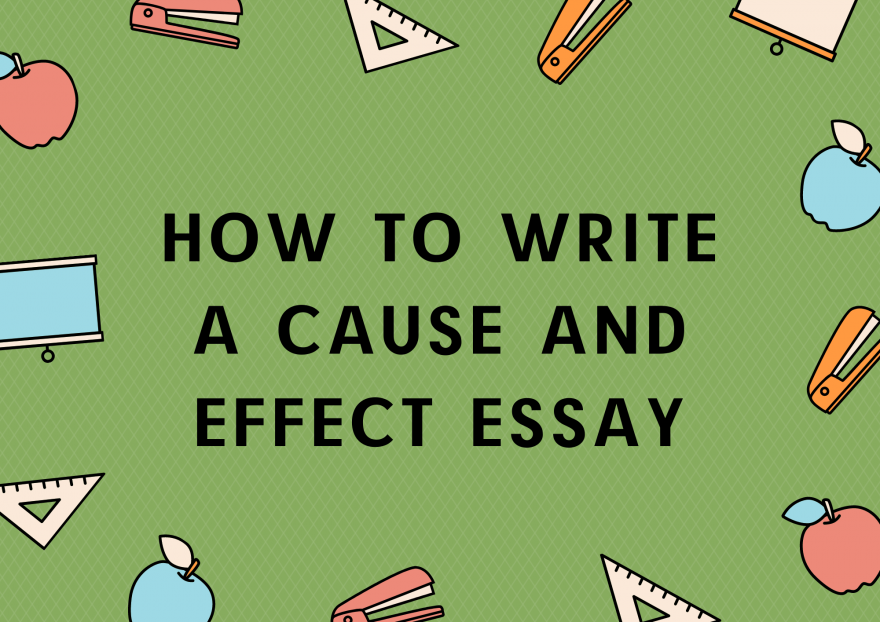 Part I Definition and core aspects on a cause and effect essay
What is a cause and effect essay?
A cause and effect essay is one of the most exciting types of academic papers. Any cause and effect essay examples must contain particular elements and follow a specific purpose. In the middle of such essays, there are always two core aspects. The first one is a subject that could be described as "a case" or an "issue." The second one is consequences, or "an effect" that comes after a subject appears. To make a cause and effect essay meaningful, the author should hold an extensive investigation of all available evidence related to the topic. After research, there is a need to develop several statements about the subject.
The purpose of writing a cause and effect essay is to develop critical thinking and teach students to evaluate pieces of evidence and choose the most proper of them to define the bounds between subjects. In addition, by writing essays of this type, students develop such skills as sourcing, analytical abilities, etc.
Distinctions from other essay types
To understand what a cause and effect essay exactly is, you can compare it to other essay types to see the core particularities and differences.
Some sources consider cause and effect essays a type of expository essay. The similarities between these two types of papers are in the similar way of exposition of facts. Two kinds of essays expose the points that are proven by extensive research.
Other sources underline the similarity between cause and effect essays and argumentative essays. The core purpose of both mentioned essay types is to prove that the author's statements, for some reason, are correct. In other words, that the issue and the consequences have abounded.
Examples of causes and effects
Before we proceed with clarifying how to write a cause and effect essay step by step, let us take a look at some examples of causes and effects that must be the core of an essay's structure:
1) Cause: There is a lot of snow and ice in the streets this winter.
Effect: Cars and buses need more time to stop.
2) Cause: Oil spills pollute the water in the World Ocean.
Effect: Animals, fish, plants, and microorganisms that live in the water die.
3) Cause: I eat only junk food, am sleepless, and do not exercise.
Effect: I have health troubles and weight problems.
Part II How to write a cause and effect essay
Since creating an effective and meaningful essay always takes time and effort, it would help if you divided the whole process into several stages:
Preparation stage
Structuring and drafting stage
Editing and finalizing stage
Now we will take a look at each of mentioned stages and define their core aspects and purposes.
Preparation
The preparation stage of writing a cause and effect essay includes defining the core requirements, brainstorming on the topic, sourcing, and developing the main statement. Each of these elements defines the result as quality preparation will make a perfect basis for the final version of your paper.
Start with the teacher's manuals
By clarifying the requirements from your teacher or professor, you will avoid misunderstandings in the future when you are scoring grades for work you've already done. If some parts of your cause and effect essay are miswritten, then you will have to rewrite your paper and do the job again. Therefore, be patient when going through the manuals you have received and find out the following aspects:
Topic suggestions (if any)
List of recommended sources
The tone of voice (scholarly, official, etc.)
Word count/amount of pages
Formatting style (APA, MLA, Chicago/Turabian)
If there are any questions regarding the aforementioned aspects, do not hesitate to address them to the teacher and count on a vast answer.
Define the topic
After you will clarify your teacher's requirements and ensure you understand the purpose, you will be required to generate an active topic for your cause and effect essay. There are many various brainstorming techniques to use, so I will not focus on them now. Instead, we will recommend you choose the topic that excites you as an author. It would be best if you felt inspired and willing to investigate this subject. For example, if you are interested in World War II, take a closer look at some cases from this historical field. You can investigate the effect of Mussolini's speeches on soldiers' attitude to the war or something else that inspires you. After you brainstorm topics, create a list of 4-5 "finalists" to choose one of them.
To give you a hint on the subjects that might be interesting to investigate, we have created a cause and effect essay topics list:
How traveling affects human life and personality.
The effect of my favorite book on my views in life.
How taking drugs affects the human body and mind.
The influence of globalization on the economy of the U.S.
The aspects that forced me to choose my university/college.
How distant learning changes the system of education.
What are the prerequisites of Nazism?
How does genetically modified food affect our bodies?
What are the causes of a tsunami?
How sleepless nights affect our lifestyle.
How a happy childhood affects a person's adult life.
What causes make students feel anxious and stressed?
What are the causes of depression?
What are the impacts of mental diseases on human social life?
What causes some women to start destructive relationships?
What causes teenagers to rebel against school rules?
How can family positively influence the child?
How smoking of pregnant women affects the child's health.
Causes and consequences of the overuse of social media.
Source information
One of the core stages of preparing a meaningful basis for a cause and effect essay is researching all relevant materials on your topic. By the way, one of the significant criteria to select a subject for your essay is looking at the amount and variety of available sources. Your paper will benefit from using different sources and combining various points of view to form your opinion on the topic and generate the central thesis.
When it comes to criteria to choose sources for your paper, consider their respectability. Your sources must be relevant to the topic. These are the following types of sources:
– Books
– Vlogs, blogs, and podcasts
– Databases, statistics
– Interviews
– Magazines, scientific journals
– Official websites of governmental authorities
– Poems, movies, novels, songs, etc.
Establish the main thesis
The closing stage of the preparations to writing a cause and effect essay would be the development of the main thesis. Ensure that your central statement is clear and easy to understand. When you are formulating the main thesis, use words that highlight the cause and the effect. Readers must understand correctly from the beginning what you will explain and what your paper tells about.
Structuring and drafting
One of the significant elements of your forthcoming paper will be a cause and effect essay outline. The core parts of any cause and effect essay are an introduction, the body, and a conclusion.
Introduction
They say you cannot repeat the first impression. So, it would be best if you remembered that your readers' first impression would depend on how you will introduce your subject and the main thesis to the audience. It will help if you don't just write your core thoughts and repeat the formulation of the topic. An excellent how-to start an essay example will include a quotation, a joke, or an unexpected fact related to the topic. You will get a chance to catch your readers' attention and make them excited about the subject the same as you are.
The main body
The cause and effect essay outline must include at least three body paragraphs. These paragraphs have to explain the main thesis, the cause (or "issue"), and the consequences (or "effect"). Cause and effect must be written after the main thesis, each of them from the new line. If you are going to include more arguments and causes-effects pairings, you have to follow the same sequence.
The main thesis must be supported by actual arguments that could be arranged as follows:
Chronological arrangement.
Order of the essentiality of statements to the topic.
Categories arrangement (if you have a lot of different aspects and arguments).
You need to include at least one paragraph that will contain the possible impact of an effect on a field to which it relates. This paragraph must reflect your vision as an author and include original ideas.
Conclusion
Any cause and effect essay must have an effective and meaningful conclusion that summarizes the main thesis and core supporting arguments. It will depend on the topic how you would arrange the final section of your essay. Usually, for a standard 5-paragraph essay, you need to underline the bond between the cause and the effect, to sum up effectively. One of the working ways to recall the core aspects is restating the thesis. Here is an example of letting you know what it looks like:
Original statement: "Schoolchildren must take at least a one-hour break during the day because it positively affects their mental condition."
Restatement: "If schoolchildren take long breaks during the day, they feel better mentally."
Note that any new facts or surprising information will be redundant for this section. Usually, the cause and effect essay format assumes suggestions from an author for subsequent researches in the same field based on the ideas from the main body.
Cause and effect essay format
Before you proceed with the closing stage of writing a cause and effect essay, you need to consider its formatting. Follow the guidelines from the teacher's instruction to arrange your paper correctly. Academic essays are usually written in APA, MLA, or Chicago/Turabian style. It is vital to put references properly and pay attention to form margins and other formatting aspects.
Editing and finalizing
When the final draft of your cause and effect essay is ready, you can proceed with polishing your paper. We recommend dividing the process of editing into two stages. One stage will be dedicated to content and will include final touches on the text.
Content finalizing
You will have to read your paper once again and ensure that each piece of evidence has enough supporting arguments taken from reliable sources. Ensure that each paragraph is connected to the previous one logically and the transitions are cohesive enough. It will help if you have a friend who can read your essay and comment on content.
When checking the content of your cause and effect essay, ensure there are enough transition words vital for such a type of essay. These words help to show that after a time, there were consequences. Here are some examples of transition words: as a result, in that case, hence, therefore, thereupon, henceforth, in effect, thus, and others.
Grammar editing
When the content satisfies you enough, proceed with the second editing stage, including polishing of spelling, grammar, word constrictions, etc. You will have to re-read the whole essay once again. Pay attention not to the content and logical bounds but to possible mistypes, repeated words, missing commas, stylistic errors, and other potential issues. Many tools help to proofread any paper fast and effectively. Among those tools are Grammarly, Wordy, and plenty of others.
When it comes to time to spend on editing, you will require at least two hours to finalize the texts for a basic 5-paragraph cause and effect essay. Note that the editing stage matters as much as all other stages of writing. Therefore, by skipping it, you might score lower grades.
Part III Cause and effect essay sample
We decided to underline all the details we explained earlier with perfectly written cause and effect essay examples. Read it and find out how to start an essay example and how to create the correct cause and effect essay format.
Cause and Effect Essay: The Effects of Credit Culture

Successful lending institutions have adopted beliefs, processes, and procedures that govern how they manage credit-related risks. Collectively, such practices are termed the organization's credit culture. A credit culture is essential for any firm that gives loans because it protects a company from incurring bad debts (Bonga et al. 46). A credit culture is necessary for promoting organizational and economic success because it assists in managing the risks that arise during lending.

A credit culture has a positive impact on the performance of a lending institution since it leads to business success. One of the objectives of risk culture is to improve the outcome of loans given and the recoveries to be collected. Lending institutions must have clear terms for the repayment of the loan's principal and interest amounts. Loan default is avoided by maintaining a good credit culture and promoting corporate governance. Organizations with poor credit policies, such as keeping non-performing loans or offering high-interest loans to borrowers in risky credit markets, are likely to face difficulty in their performance. Various lending institutions have collapsed because of the failure to adopt a strong credit culture (Bonga et al. 45). A credit culture is crucial in preventing losses for a lending company because it helps lenders avoid issuing risky debts.

A credit culture can help stimulate growth in an economy. Since lending companies provide a means of transforming people's savings into investments, they need robust policies that would protect the credit they offer. The countries that have strong credit cultures have the potential to encourage financiers to extend credit to borrowers. Laws and judicial processes also promote strong credit culture economies (Kupiec). The lenders can apply reliable and effective legal strategies to repossess any collateral declared if the borrowers default. Credit cultures in strong economies protect lenders from loan defaulters. Hence, lending institutions depend on the state of their country's credit culture to provide people and businesses with loan facilities. Economic growth can stagnate if the credit culture is weak because savings fail to transform into feasible investments.

A credit culture helps in managing the business risks that pose a threat to an organization's liquidity. The lending industry is risky because lenders issue credit while acknowledging that there is a probability that people would default. Organizational leaders are required to develop risk management strategies that would promote a positive and robust corporate culture. The credit culture is also dependent on the performance of the lender's human resource capital. Business practices are usually successful if the people working towards achieving the organizational goals are on board. Management must share their credit culture beliefs with their respective teams to reduce the risks that can deter the firm's performance. Lending risks are controlled by adopting a positive credit culture that identifies and prevents all possible threats.

Economies and businesses must strive to create strong credit cultures to make significant strides towards their objectives. The nature of the credit culture can influence the success or failure of an economy. Lending institutions depend on laws and policies that affect the credit culture before issuing loans. The economy also depends on lenders to ensure there is continuous growth and investment. If there is a weak credit culture, both the economy and the lenders would face challenges that can be avoided by proper risk management. There is evidence of lenders having suffered significant losses due to the lack of appropriate credit practices. Managers are required to develop risk management strategies. Among those strategies is creating a robust credit culture.

Works Cited

Bonga, Wellington G., et al. "Analysis of Credit Culture in the Zimbabwean Banking Sector." Journal of Economics and Finance, vol. 4, no. 2, 2019, pp. 45-55, www.researchgate.net/publication/332442157_Analysis_of_Credit_Culture_in_the_Zimbabwean_Banking_Sector.
Kupiec, Paul H. "A Compromised Credit Culture Reduces Economic Growth." American Enterprise Institute – AEI, 8 Apr. 2020, www.aei.org/economics/a-compromised-credit-culture-reduces-economic-growth/.
What Else We Can Do For You with Cause and Effect Essay Writing
We tried to make this detailed guide on how to write a cause and effect essay valuable and readable. We have a hope that you found this information valuable and applicable to your studies. By the way, if you liked our article, you could also find some more interesting materials to read on our website. For example, this complete guide on how to write a 5-paragraph essay will shine some light on the structure and core aspect of academic writing basics.
When you understand the core aspects of creating an effective and engaging cause and effect essay, you can look at alternative options to make your papers shine. Our website collaborates with many professional authors who know a lot on how to state working cause and effect essay topics, structure, and format papers on any subject. By turning to our help, you will forget about deadlines and sleep well at night. All you require is to fill out the order form and provide us with information about your paper: we will offer you affordable rates among the market average and practical customer support 24/7. We have outstanding testimonials left by customers, but anyway, we strive to become better. Do not hesitate to request our help and use it if you need it urgently.