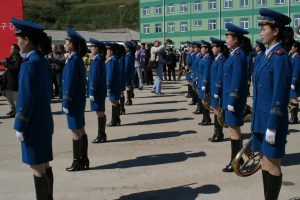 How does North Korea sustain itself with a massive military and no economy?

North Korea is one of the poorest countries in Asia and the poorest in East Asia. Looking through the history it's clear that NK never sustained itself by oneself. China – the main supplier for NK since the beginning. NK is provided with food, energy and other resources from China; it's kind of investment to keep enemies in addiction. China's economic assistance to NK accounts for about half of all Chinese foreign aid (SNYDER, 2009).

They also get foreign aid from the US, South Korea, and a few other countries. Returning to history, USSR/Russia was also playing the role of a guardian. Thus, when you have two superpowers providing you resources it's obvious that you can sustain even in the status of "no economy". Actually, it is not really possible. NK has an economy, but it is very slowly growing. Despite droughts and floods, they NK has farms as well as factories, they can provide people with jobs. NK also 'sells' plutonium to the US in return for food. Speaking about military supplement we cannot forget about China.

During the Korean War, China assisted NK, sending as many as 3 million soldiers to support NK (UNKNOWN, 2013). The secretive nation of NK continues to pour money into its war machine while testing its southern neighbor when possible. NK is spending as much as 40 percent of its gross domestic product on its military, including its nuclear-weapons program, to give its 1.2-million-man army key advantages over better-armed US. and South Korean forces (LAPORTE, 2004).

Summing up, it's obvious that for the world, NK is like a dangerous kid with a hazardous weapon.

References

Scott Snyder (2009). China's Rise and the Two Koreas: Politics, Economics, Security. Boulder, CO: Lynne Rienner.
Unknown Author (June 28, 2010). 180,000 Chinese soldiers killed in Korean War. China Daily. Retrieved from: http://www.china.org.cn/
Leon J. LaPorte (August 3, 2004). North Korea pumps money into military. The Washington Times. Retrieved from: http://www.washingtontimes.com/
The presented essay about North Korea is provided to give you a good example of how such academic papers should be written. We remind you that you are not allowed to copy the provided text or use it without proper acknowledgments since it will be considered as a violation of author's rights. We know that writing about history and politics is difficult, so you can always count on us. Visit our website and place your order to get a great essay about North Korea created especially for you and according to all academic demands. You don't have to struggle on your own!