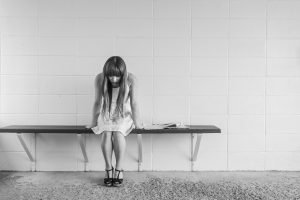 Is borderline depression worse than clinical depression?

Any illness is suffering the whole body – its physical and mental health.

First of all, what do we mean by the word "depression"?

Depression – is a condition characterized by depressed or melancholy mood, decrease in mental activity, combined with motor disorders and various somatic disorders. Classically, we can meet clinical depression when we have some problems at our work, in our relations, etc. As Daniel K. Hall-Flavin, M.D mentioned (2), clinical depression is an illness, which is characterized at least by five symptoms like insomnia, depressed mood, lack of energy, trouble making decisions, bad appetite. Clinical depression is a diagnosis made by a psychologist using information about the disease according to the article of Quinn Eurich (1).

On the other hand, clinical depression may be hiding by the borderline depression – very different illness, but almost always with very similar symptoms. And when the doctor sees only borderline depression, he does not usually prescribe an antidepressant, but only a tranquilizer which does not have the proper effect. That medicine only stops some symptoms for some period of time, but does not have a curative effect.

If borderline is usually manifested in the age of 10-15 years old, the probability of clinical depression may be recognized in patients older than 30 years.

Most people with depression talk quite rationally. Therefore, quite often at the psychiatrist they do not look depressed.  Neither the patient nor his family and relatives and the psychiatrist did not suspect depression. They admit only irritability, irascibility and some anxiety, sometimes understandable (psychologically explainable) around.

The borderline depression is worse than clinical because patients can not recognize the illness, they are not sure whether they are depressed or it's just an anxiety. It is a very dangerous illness and may cause very serious consequences.

References

1. https://www.quora.com/Is-borderline-depression-worse-than-clinical-depression
2. http://www.mayoclinic.org/diseases-conditions/depression/expert-answers/clinical-depression/faq-20057770
This essay about depression is a sample written by our professional authors. We remind you that you are not allowed to use this text without proper acknowledgments since it will be considered as a violation of the author's rights. But we understand how difficult it can be for a student to submit all the assignments while trying to find a part-time job, go out with friends and generally live their lives. If you need a custom essay about depression created according to your demands, place your order using the form below. Our professional writers are always ready to help you!