How to Write a 5 Paragraph Essay: Everything You Should Know
A 5 paragraph essay is a type of paper that should be written according to the established format of an introduction, main body with three paragraphs, and conclusion. We'll show you how to correctly create an essay plan, avoid common mistakes, and have a well-structured essay in the end.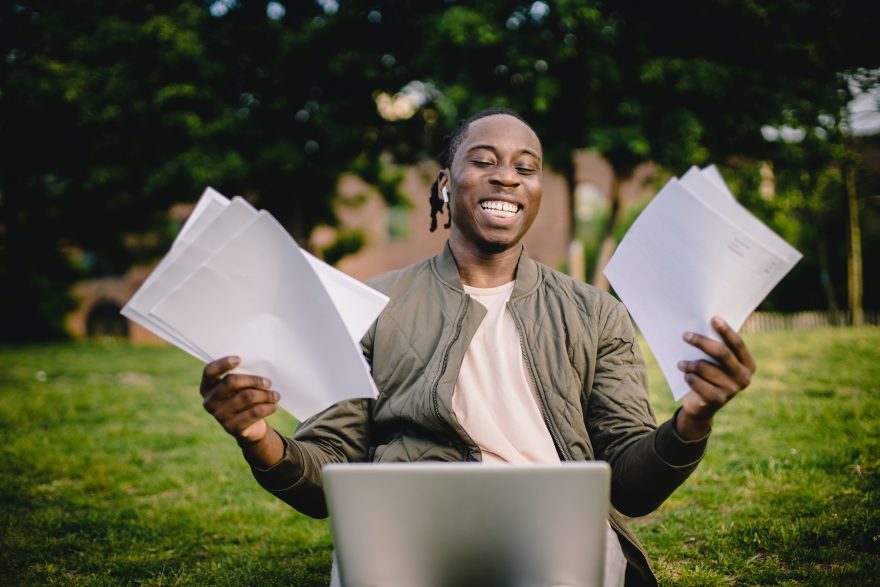 Photo by Ketut Subiyanto from Pexels

Structure of a Five Paragraph Essay
While writing, you should stick to the following 5 paragraph essay outline:
Introduction with the problem statement.
First body paragraph expressing your opinion.
Second body paragraph expressing an opposing opinion.
Third body paragraph explaining why you don't agree with the opposing opinion.
Conclusion that restates your position.
Not completing the outline is one of the most common mistakes and the main reason for getting a low grade. Let's figure out how to write an essay according to the outline in order to get a high grade.
Introduction
According to the 5 paragraph essay rubrics, in the introduction, you present the main problem and enter into a discussion with a party that has the opposite opinion. Here, it is desirable to keep within two or three sentences.
Action plan:
First sentence: general information and urgency of the problem.
Second sentence: the first point of view.
Third sentence: the second point of view.
Do not forget to demonstrate that there are two opposite points of view on the problem posed.
Personal opinion
Usually, students are asked to write two to three sentences in support of their opinion. We propose to dwell on only two arguments and explain them well. That is, simply saying "I think that education for teenagers is necessary" will not give you the desired grade.
This may sound offensive but the teacher is not really interested in your opinion. You aren't writing an essay to show everyone how to write a paper, which will then be published in an international scientific journal. Your task is to successfully write down all the points of the plan, so defend the position for which it will be easier for you to come up with evidence. Mind maps can help you with this: on a draft, quickly write down the arguments for and against your position, so it will be easier for you to collect your thoughts and write the essay itself.
Opposing opinion
In the third paragraph, your goal is to talk about the opposite point of view and come up with one or two proofs for it. At this stage, it's worth counting how many words you've written. This is necessary in order to understand how many arguments you can afford in this paragraph in order to meet the word limit. Also, every argument in the third paragraph must be refuted in the fourth paragraph.
Counter-arguments
This is the most insidious part of the 5 paragraph essay outline. The assignment is nevertheless created to test your knowledge and skills in a foreign language. Now you have to not only argue against the point of view presented in the third paragraph but also do it in a completely neutral way.
Conclusion
We're almost there. In the conclusion, reiterate the problem in one or two sentences. Here, as with the rest of the essay, it is important not to repeat the wording and use synonyms.
Read your essay to make sure it goes well and the supporting paragraphs are powerful. If you see that they don't reflect the exact focus of your essay, don't worry. Just rewrite the thesis statement to fit the main body and conclusion, and adjust the conclusion to make it look nice.
How to Write a 5 Paragraph Essay: Steps
First, choose a topic, and then write your essay by doing the following:
Create a 5 paragraph essay outline, and decide on the main thesis with your idea of the topic.
Choose three supporting pieces of evidence you will use to support your thesis.
Write an introductory paragraph.
Write your first main paragraph, starting with restating the thesis and focusing on the first evidence.
Write the second body paragraph, focusing on your second piece of evidence. Re-establish the connection between your thesis and the proof.
Repeat the previous step using the third proof.
Start your final paragraph by repeating your thesis. If you haven't forgotten it throughout the entire text, that's good! Summarize your main arguments. When we are talking about an argumentative essay, your reasoning is your main contribution. Do not offer new information in the conclusion.
End with a question, anecdote, or fun thought that will amaze the reader.
Once you pass these easy steps, writing a five-paragraph basic essay is as easy as shelling peas if the student does it right and includes enough background information in all paragraphs. Look at this essay sample to see how to write an essay of five paragraphs correctly.
We hope that after our detailed information on how to write a five-paragraph essay, this assignment won't cause much trouble for you. How will the teacher evaluate your essay? He or she will evaluate the following aspects:
Solving a communication problem (you need to follow the topic clearly).
Organizing the text.
Vocabulary.
Grammar.
Spelling and punctuation.
5 Paragraph Essay Format
The requirements for the format may differ, so we will limit ourselves to indicating only the most general principles.
Quoting and paraphrasing (quotes and footnotes)
When using another person's words (direct quotation) or ideas (indirect quotation or paraphrase), you must make it clear to your reader that these are not your words or ideas. Even if you have squeezed a large amount of someone else's text into one paragraph (and this is, of course, serious and creative work), you need to make a footnote – include a source in the works cited or references section. The text does not become yours because you have carefully worked it out.
Reference to entire books and articles, if you use a specific statement or a specific idea, is a mistake: specify a page or a range of pages.
With rare exceptions, texts do not spontaneously originate on the Internet. Referencing to a digital version (no pages) if there is a printed version (with pages) is bad form.
You should be careful with citing ancient authors. Ask your teacher how to do it right if you have doubts.
Correct grammar and punctuation
To get started, stock up on the dictionary and use it in all disputable cases. You should always check the spelling and meaning of words after finishing your essay. Beware of paronyms!
Text formatting
Stick to the format style that was indicated in the requirements – APA, MLA, Chicago, etc. Formatting errors in your essay can lead to a low grade.
5 Paragraph Essay Template
In order not to get into a mess with writing essays, all students are encouraged to familiarize themselves with five paragraph essays examples. One of such samples is provided for review below.
How Did Adolf Hitler Become So Powerful?

Joseph Goebbels' mastery in using propaganda was one of the most powerful tools that the Nazis used to successfully (but briefly) establish an Aryan national community and to consolidate their power, which ultimately led to making Adolf Hitler the most formidable figure of the 20th century.

Reich Minister Goebbels sold lies to the public, and this was evidenced by a propaganda law he upheld, which states, "Repeat a lie often enough and it becomes the truth." This statement is consequently attributed to him. According to psychologist Tom Stafford, whether the statement is truthful or not, its repetition makes it true. Research by Vanderbilt University states that even with prior knowledge, repetition can sway people's judgments of plausibility. What Goebbels did was to create an illusion of truth that many brands are using even today (Stafford).

History has it that one of Hitler's first acts as chancellor was to put up the Reich Ministry of Public Enlightenment and Propaganda because he believed that controlling information was equally important as controlling a country's economy and military force ("The Power of Propaganda"). Goebbels, as Hitler's handpicked director, was able to penetrate all forms of German communication such as school books, mass rallies, radio broadcasts, posters, and newspapers and fill them with Nazi propaganda that showed the glowing vision of the "national community" and created fear and hatred against the regime's enemies, labeling them dangerous and inferior to the Aryan race.

Germany's political situation at the time was crucial to the Nazi rise to power. Goebbels made Hitler very popular by making him seem like the only human being who could solve all of Germany's problems. Their propaganda appealed to different mindsets in Germany, including the socialists, nationalists, racists, fascists, capitalists, and the labor force ("Nazi Rise to Power"). Through Goebbels' magic touch, Hitler appeared in public as a charismatic leader. His use of language was very effective, and it helped him convince multitudes. He came across as energetic, passionate, and the man with a plan. Goebbels reinforced this with slogans that appealed to simple minds.

All in all, it was Goebbels' effort to create an astounding public character out of Hitler that made the latter's name and persona, albeit infamous, as encompassing a character as it is known today.

Works Cited

"Nazi Rise to Power." BBC, 2019, https://www.bbc.co.uk/bitesize/guides/zpknb9q/revision/2. Accessed 09 Aug 2019.
Stafford, Tom. "How liars create the illusion of truth." BBC, 26 Oct 2016, http://www.bbc.com/future/story/20161026-how-liars-create-the-illusion-of-truth. Accessed 09 Aug 2019.
"The Power of Propaganda." Facing History and Ourselves, 2019, https://www.facinghistory.org/resource-library/teaching-holocaust-and-human-behavior/power-propaganda. Accessed 09 Aug 2019.
Be sure to listen to our advice when writing a five-paragraph essay. However, if you come to the conclusion that this is difficult for you, you can always get help on BuyEssay. Our writers often write such papers and will easily cope with your order. Buy an essay from us, and you will see it for yourself!