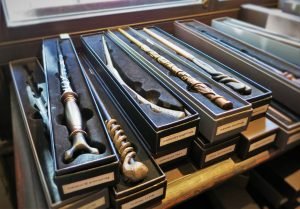 Why is Harry Potter a must read for business?

Selling 400 million copies worldwide, translated into 69 different languages ("Pottermore: JK Rowling facts and figures", 2011), employing 800 people for the movie business ("The Harry Potter Economy", 2009), and J.K Rowling being the first ever author to become a billionaire; the Harry Potter saga took the readers and movie watchers' world by storm. The easily relatable characters for all races and nationalities with a splurge of magical imagination has kept the fans glued to this epic series. The insurmountable success had thus grabbed the attention for business gurus to explore and relate the rationale behind its success.

Gunelius (2010), has advocated strongly how various characteristics of Harry Potter can inspire the businesses to form strong marketing plans. Harry Potter had become a product that captivated reader's attention right away. The readers had become emotionally involved with the Harry Potter and the online buzz and perpetual marketing tactics kept readers glued for more books volumes. These features can inspire businesses to make a strong quality product, create emotional connection with consumers and build brand loyalty.

This book series has given birth to a new phenomenon known as Harry Potterization (Patel, S. 2006). It explains well how J.K Rowling's small idea crossed all the thresholds and sustained the equity for years to come. Businesses can therefore learn the same tactics; gaining knowledge of what the consumers seek, tapping the right market at the right time, building relatability with the consumers and finally keeping consumers enthralled with new product developments.

Harry Potter is a must read for businesses not just because this fiction piece is full of surprises but because the stakeholders involved e.g. Publishers, Merchandisers and Movie makers had incorporated intelligent marketing gimmicks as well to build the historical brand.

References

Pottermore: JK Rowling facts and figures. (2011, June 23). Retrieved from http://www.telegraph.co.uk/culture/harry-potter/8592280/Pottermore-JK-Rowling-facts-and-figures.html
The Harry Potter Economy. (2009, December 17). Retrieved from http://www.economist.com/node/15108711
Gunelius, S. (2010, November 22). The Marketing Magic behind Harry Potter. Retrieved from https://www.entrepreneur.com/article/217564
Patel, S. (2006). Harry Potterization: The Global Phenomenon Explained (Bachelors Thesis). Retrieved from http://www.stern.nyu.edu/sites/default/files/assets/documents/con_043282.pdf
This paper is a Harry Potter essay created by our academic writers. We remind you that it is provided for reading only, you are not allowed to use it any other way since it will violate the author's right. However, we are always willing to help students in a desperate situation. If you feel like the number of assignments is becoming overwhelming, it is time to place an order and get a professional Harry Potter essay written by our academic experts. On-time delivery, top quali, y and absolute confidentiality are guaranteed. Once you try our awesome service, your college life will get a lot easier!