Definition Essay – Healthy Appetite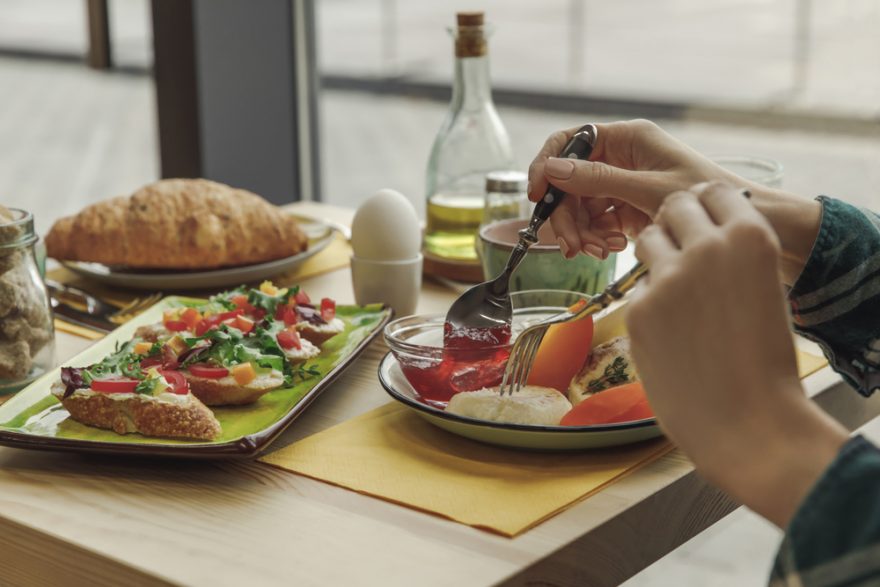 Photo from Depositphotos
Appetite is an urge for eating food. Most of the time it is due to hunger. A good appetite will make you feel hungry at frequent intervals. A low appetite or lack of appetite if persists for many days leads to loss of weight and malnutrition and a disease called anemia. Maintaining a good and healthy appetite is important.

Healthy appetite helps to provide adequate energy to the body by consumption of food. Food has been an important source of energy provider. Food intake can be solid or liquid form. Eating the right food with balanced nutritional values ensures good health. Nutrients are needed to perform all the functions, proper growth and reproduction. Adequate and good nutrition is required to maintain a healthy physical and mental condition. All these benefits are possible with a healthy appetite.
A Study has revealed that eating in a group, with near and dear ones increases the intake of food by 18% and also helps to try new varieties of food. Eating food by watching TV also increases the intake by14%. Healthy appetite can be maintained by eating in different shape and sizes.
Our biological clock gives us an alert when we are hungry. Eating at regular intervals, and eating a balanced diet helps to maintain a good and healthy appetite. Three full meals a day is very good. Breakfast should be substantial, lunch moderate and food consumed during dinner very light and easily digestible.
Diet can be planned depending on the individuals or groups to suit their requirement, depending on the climatic conditions of the place they live, cultural and religious beliefs, health status, age, gender, metabolism, height, weight, and other factors.
Works Cited
Betts, J., Richardson, J., Chowdhury, E., Holman, G., Tsintzas, K., & Thompson, D. (2018). The causal role of breakfast in energy balance and health: a randomized controlled trial in lean adults. Retrieved from 24 January 2018.
Hetherington MM, e. (2018). Situational effects on meal intake: A comparison of eating alone and eating with others. – PubMed – NCBI. Ncbi.nlm.nih.gov. Retrieved 24 January 2018, from https://www.ncbi.nlm.nih.gov/pubmed/16757007
J, W. (2018). Bad popcorn in big buckets: portion size can influence intake as much as taste. – PubMed – NCBI. Ncbi.nlm.nih.gov. Retrieved 24 January 2018, from https://www.ncbi.nlm.nih.gov/pubmed/16053812
This definition essay sample will help you to write the best essay about healthy eating. You can't present this paper as your own – you will be accused of plagiarism. In this definition essay sample you can find the best ideas that can be useful for your writing. These original ideas are essential for a quality paper – take this into account when you begin writing your essay. Also, you can get more ideas if you check out Health Care Essay: Fat People.
The best thing about our site is that you can use it and no one will know about it. Your personal information will be secure and never passed to third parties. We take care of privacy and confidentiality – that's why our clients feel confident in coming back to us again. You can become one of those customers by placing an order with your requirements.